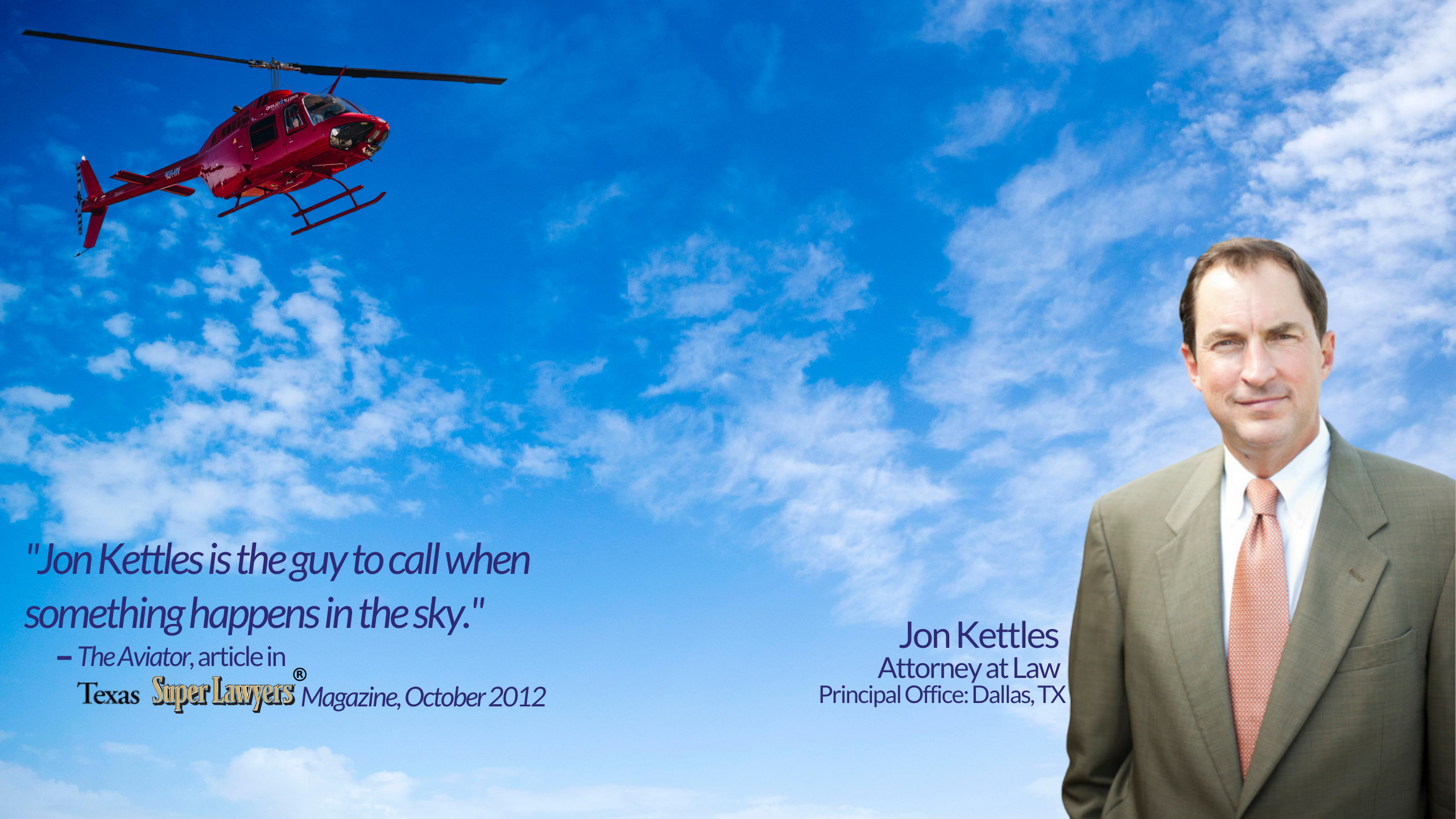 We represent people who have been injured or have lost family members in aircraft accidents.
At the Kettles Law Firm, we discover the cause of aircraft crashes –from complex in-flight mechanical failures to design-induced pilot errors – and hold the responsible parties fully accountable. This requires a law firm with experience in aviation and in handling aviation cases. The Kettles Law Firm has both: Real experience. Real results.
Airplane Helicopter Aircraft Lawyer
Welcome to The Kettles Law Firm, where you can work closely with a highly experienced and knowledgeable airplane accident litigation attorney following your aviation accident.
Our team works closely with men and women who have been involved in airplane or helicopter accidents, in addition to those who have lost loved ones in fatal aviation accidents. As your helicopter accident litigation attorney, we work hard to ensure that the negligent party is held accountable and that you receive the compensation that you deserve.
About our aviation litigation attorney
Aircraft accident lawyer Jon Kettles brings a profound level of knowledge and experience to your case. Mr. Kettles has spent his entire professional life making contributions to both the aviation and aviation law industries. A snapshot of his diverse range of qualifications as an airplane accident litigation lawyer include:
A degree in aerospace engineering
Former Army captain with military flight experience
Airplane and helicopter pilot and instructor (with the FAA's highest designation)
Over 25 years of experience in the aviation law industry
This knowledge and experience is paramount in Mr. Kettles' efforts as your helicopter accident litigation lawyer. Aviation law is an especially complex and technical area of personal injury law. It's important to work with an airplane accident litigation attorney that is able to investigate the details of your accident and pinpoint the cause and negligent parties involved.
Implementing innovative resources to build a strong case for you
The Kettles Law Firm knows the importance of taking our findings and all the technical details surrounding your accident and presenting them in terms juries and judges can understand. That's why we utilize high-tech solutions such as animation software, video and graphics to help drive home our arguments.
This goes a long way with judges and juries, who are able see and digest the information in concrete terms. This has allowed us to find success in a wide variety of cases. As a helicopter accident litigation attorney, we have successfully litigated cases involving:
Pilot or operator negligence
Defective aircraft or aircraft components
Kit-manufactured aircraft
Air traffic control errors
Accidents in other countries
Insurance coverage and waivers
And more
We know that aviation accidents can have a long-lasting impact on your life — both physically and emotionally. As your helicopter aircraft litigation attorney, we vow to work hard on your behalf so you can concentrate on the recovery process. We will ensure that your legal rights are being upheld and that you receive the compensation you deserve.
Start by consulting with the team at The Kettles Law Firm. Get to know our airplane accident litigation attorney staff and tell us about the details of your accident.